What is DMA/CMA/Markets level data?
A DMA, or Designated Market Area (also known as a Media Market, Market Level, or Local Level), is a region where the population can receive the same radio station offerings and internet content. DMAs are used to determine what content radio listeners receive. Read more about DMAs here.
A CMA (Census Metropolitan Area) is a Canadian region where the population receives the same radio station offerings and internet content. C
MAs determine what content Canadian radio listeners receive. CMAs are formed by one or more adjacent municipalities centered around a population center. Read more about CMAs here.
For our products, streaming activity from some providers is broken out by DMA/CMA market level depending on your selected region: US or Canada. You must be licensed to view this data as part of your MRC Data package.
To see whether you have access to Markets/DMA/CMA data, select your region by going to the upper right hand corner of your Music Connect console:

If you have access to DMA/CMA information, a "Markets" tab in any Dashboard will be available to you. Choose or search for any Song, Album, or Artist Dashboard and click the "Markets" tab: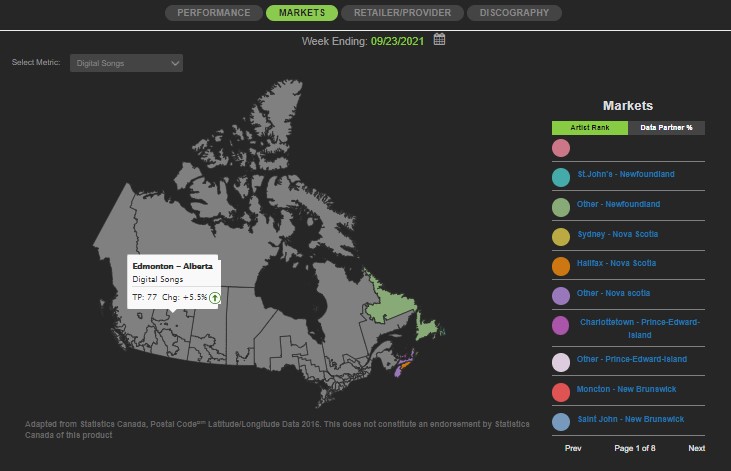 DMAs can overlap with multiple metropolitan areas. Conversely, very large metropolitan areas may be divided into multiple areas. A map of United States and Canada DMA/CMAs can be found in Music Connect from the Markets tab of any Dashboard as shown above:
A DMA is usually named by its largest city.

Note: DMA is not the same as Market Level data. Ex: San Francisco - Oakland - San Jose. San Jose cannot be broken out individually: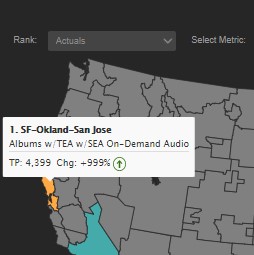 If you have an MRC Data account, please log in to the Knowledge Base with those credentials in the upper right hand corner of this page to read more:

If the Markets tab and DMA/CMA data is not accessible to you, please reach out to your sales representative or
submit a ticket
.
Related Articles

Radio - How can I use Market Level Streaming Data?

MRC Data offers Market Level Streaming Data for the US and Canada. How do you, as a client, best use that data to help your business? If you're programming music for a multi-cluster radio company then you may have questions like the following: ​ I'm ...

What is the difference between a Market and a DMA/CMA in the BDS system?

DMA stands for Designated Market Area. A DMA is a geographic region used to analyze and quantify consumer activity. In the Luminate products DMAs are used to geographically categorize music sales and online streaming of music in the United States. ...

How do I use the Streaming Chart in BDSradio?

In BDSradio go to "Charts/Streaming" to view the Streaming Chart. Streaming refers to on-line listening to music and viewing of music videos through services like Spotify, YouTube, Apple Music and Pandora. These providers are also referred to as ...

I want to compare airplay, streaming and sales between markets.

In BDSradio to compare airplay, streaming and sales between markets, click on a song title or artist name from any report or go to Songs / Song View to look up a song or artist. Click on the "Markets DMA" tab. Airplay, streaming and sales is ...

When is data updated in BDSradio?

Airplay data is updated in BDSradio every day through yesterday. Today's airplay data is available by going to "Stations/Realtime". Sales data is updated in BDSradio every Monday for the previous Friday-Thursday. This Week (or TW) Streaming data is ...