Within BDSradio where can I find information about music sales?

Music sales include
paid digital downloads of albums and tracks as well as online and in-store purchases of CDs and vinyl records.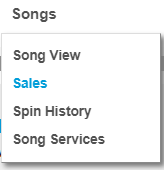 In BDSradio go to Songs/Sales to see the following weekly sales charts:

National Album Sales

Album Sales by Market

National Digital Track Sales

National Latin Album Sales

National Christian Album Sales

Christian Album Sales by Market


Album sales charts include both physical and digital albums
In BDSradio go to Charts / Streaming to see paid digital song downloads:

The Digital Sales Rank column shows you the rank of each song for the most recent Fri-Thu chart week based on all of the songs appearing on the report. So the rank is relative based on the songs appearing on that report and not an absolute rank based on all songs.

Hover over Digital Sales Rank to see rank and sales volume for the past 6 weeks.

Switch from national streaming to market level streaming using the "Markets" pulldown and the Digital Sales Rank column will show you rank in the DMA (Designated Market Area) or CMA (Census Metropolitan Area).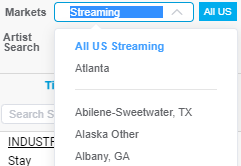 In BDSradio go to Songs / Song View to see paid digital song downloads for a song or artist:

Click on a song title or artist name from anywhere within BDSradio or go to Songs / Song View to search for a song or artist.

See digital song sales for this week (TW) and activity to date (ATD) in the consumption dashboard at the top of the page.
Click on "Markets DMA".
In the body of the report view digital song sales for this week (TW) and activity to date (ATD) broken out by market/DMA.

Toggle between "Share %", "Volume" and "Index" with the radio buttons in the report header.

Hover over the values in the TW and ATD columns to see the sales trend for the past 6 weeks.



Digital Tracks are a subset of Digital Songs. Every version of a song is issued a distinct
ISRC code
. Each ISRC code constitutes a Digital Track. Multiple Digital Tracks can be aggregated under one Digital Song. So for example the album version, radio edit, remix and live version of a song would all have different ISRCs and constitute separate Digital Tracks but could all be rolled up under one Digital Song.
Should a new version of my song be merged with the original version or separated?
Related Articles

How Do I Inquire About Getting a Music Connect Account?

Music Connect is the Industry's Premier Global Music Measurement Platform a providing comprehensive view of streaming, radio airplay and sales data for your artists, albums and songs. Music Connect helps clients dive deep into datasets to uncover ...

Does Music Connect have data outside of the US?

Music Connect Global tracks sales & streaming globally. Major streaming services provide digital streaming and sales.

What is a catalog number?

A Catalog number can be found on the spine of a physical CD. If uploading digital tracks not from a physical CD, you can leave it blank.

What is BDSradio?

BDSradio is the single resource for streaming, sales and airplay data at the U.S. and Canada national and local-market levels, delivering a complete overview of music consumption.

Which stations does BDSradio monitor?

Please find a list of the stations BDSradio currently monitors here.