Is there a Quick Start guide for BDSradio?
The Homepage is your starting point for navigating through BDSradio.

The tiles in the center change often and highlight new features, upcoming webinars, and other helpful information.

The sidebar to the right contains links to articles and white papers, resources like our FAQ and chart panel changes, and webinars showing you how to get more out of BDSradio.

Click the gear icon in the upper right hand corner to go to Settings.

Hover over your name in the upper right hand corner to Logout.
Warnings about scheduled maintenance and any data delays will appear on the Homepage in red.

The tabs across the top of the page allow you to navigate to BDSradio reports.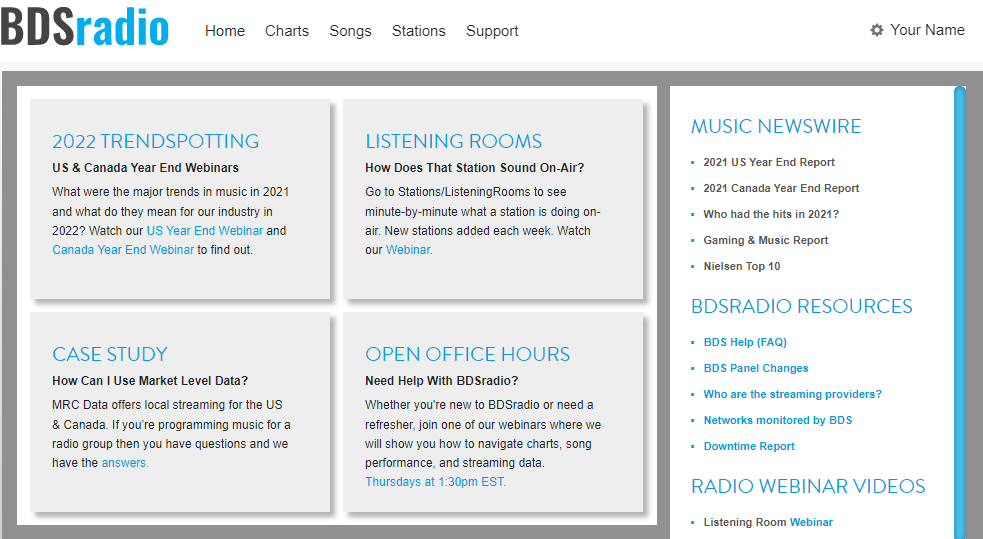 Sign up for our weekly
Open Office Hours
webinar where one of our product experts will show you how to get the most out of BDSradio.
Hover over
Charts
and select Format Chart to view airplay charts. From the Charts tab you can also navigate to:
Custom Charts to create a chart with a customized list of stations or a customized date range.

Streaming to view online streaming from services like Spotify, YouTube, Apple Music, Pandora and Amazon.

Power Adds to see new songs receiving airplay.

Hover over
Songs
and select Song View to see a song report or an
artist report
. From the Songs tab you can also view:
Sales to see downloads and CD sales for songs and albums.

Spin History to find out exact times that a song played on a radio station.

Hover over Stations and select Station View to analyze a particular radio station. Other options from the Stations tab include:

Station Compare allows you to compare a radio station to formats or other stations.

Realtime presents up-to-the-minute same day airplay data.

Listening Rooms gives you details about how a radio station sounds and feels on-air.

Hover over Support to contact us, provide feedback, or use our interactive FAQ.


Hover over anything highlighted in blue in BDSradio (including column headers) to see a pop-up with more details. Anything underlined in BDSradio can be clicked on to navigate to a report on that number, song title, artist or station.
Related Articles

Music Connect Welcome Guide

Welcome to Music Connect, your guide to the world of music consumption data. Music Connect provides a holistic view of the music industry, where you have the ability to deep dive into datasets to uncover insightful metrics, identify trends and track ...

How do I make a Custom Chart in BDSradio?

A Custom Chart allows the user to select a specific group of stations to see an analysis of all songs being played by those stations. Click here to watch a webinar on how to get the most out of BDSradio Custom Charts. To create a Custom Chart 1. In ...

How to access Holiday data in BDSradio?

Holiday airplay data can be accessed in BDSradio by following these steps: Go to BDSradio homepage. In the upper right hand corner use the gear to access user settings. Select the option to show Holiday reporting in the provided window. 4. Go to ...

What is BDSradio?

BDSradio is the single resource for streaming, sales and airplay data at the U.S. and Canada national and local-market levels, delivering a complete overview of music consumption.

Which stations does BDSradio monitor?

Please find a list of the stations BDSradio currently monitors here.