I want to see more information about the Year Of Release of songs being played by a radio station.
In BDSradio go to Stations / Station View.

Select a station and click on .


Year Of Release or Release Date represents the Year that the song was released to radio.

"Songs" represent distinct titles played by the station. "Spins" represent how many times those titles were played. So if Song A from 1985 was played 7 times and Song B from 1985 was played 21 times that would be 2 "Songs" and 28 "Spins" for Release Date 1985.
Percentages show you how much of the station's total playlist was from a given year.

Year Of Release information is shown in both grid form and graph form.

To see an Era Map from a historical time period or for multiple stations, go to Charts / Custom Charts.

Within your Custom report you have the option to see an Era Map for all the stations in your report combined or for each individual station.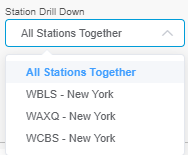 Related Articles

What do the terms Current, Recurrent, and Gold mean?

BDS identifies Current, Recurrent and Gold (CRG) titles in reports. This provides quick insights into playlists. CRG categorization is subjective and each radio station Program Director has his/her own rules for defining CRG. BDS applies its rules ...

How do I see the Average, Middle, and Most Spins Year of the songs being played by a radio station?

To find out the average year, the middle year and the most spins year of all the spins detected at a radio station, in BDSradio go to Charts/CustomChart/MakeNewCustomChart. Create a Custom Chart for the stations you're interested in and then "View ...

How do I see Year Of Release on a BDSradio Chart?

To see the Year Of Release for songs on a BDSradio Format Chart or Custom Chart, filter in Gold titles and a "Year" column will appear to the far right on the report.

Why is my song Recurrent on the Airplay Charts?

Current/Recurrent/Gold Rules applied in BDSradio, BDSRealtime and Music Tracking for each airplay format. Recurrent status is determined by the Billboard charts. See below for the Recurrent rules for each format. If a song falls off a ...

How can I see the exact time that a radio station played a song?

To see a Music Log for a particular station showing minute-by-minute what was played over the past 7 days, in BDSradio go to Stations / Station View, select the station and click on Music Log. For instructions on how to see a Music Log ...