What if I can't find a song I'm looking for in BDSradio?
To find a song in BDSradio go to Songs / Song View and use the "Find Artist Or Song" search box.

Enter the artist name and/or the song title. You can enter partial artist names and song titles if you're not sure about spelling or punctuation.


Most band names do not include "The" at the beginning. So The Beatles will appear as "Beatles".

You will be presented with a list of artist names and song titles that match your search with the most popular songs and artists prioritized.

Click on an artist name to navigate to an Artist View report or a song title to navigate to a Song View report.

If you don't see the artist name or song title click on "Can't find it?".

Enter Artist Name and Title to find a specific song.

Enter Artist Name only to get a list of artists with that name.
Enter Title only to get a list of songs with that title.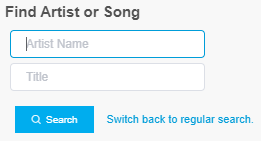 Use the percent sign (%) before your search term to see every entry that includes that word. For example entering "%question" in the Title field will return every song that has "question" anywhere in the title.