I am trying to report a song as an Add and can't find it in your database.
If you are trying to report an Add to www.bdsadds.com/bdsreports and can't find it in our database you might be spelling the artist name or song title differently.

Less is more when searching for songs. Enter partial artist names and song titles. If you enter artist name of "John" and song title of "Love" the website will return every song with those words anywhere in the artist name and song title. Keep in mind that we often drop "The" from the beginning of band names.

If you check off "Search for exact match" the Search will only return songs that exactly match what you entered. This is helpful for shorter and more common artist names and song titles that might return many results.
If you are a monitored station and are already playing the song in question you can click to load a list of all the songs being played on your station. Find the song and click on it to report it as an Add.
If you cannot find the song in our database, enter the artist and song title and then hit the Search button . You will then be given the option to enter the label name and manually Add the song. If you do not know the label you can leave that blank.

Manually entered Adds will be marked in Red on your confirmation email. Before the chart deadline we will merge that manual entry with the correct listing in our database or create a new song listing.

If you find the song in our database but click on it and are unable to Add it, that means another station has manually entered that title and the manual listing hasn't been reconciled by our team yet. Most likely the title is in our database spelled differently.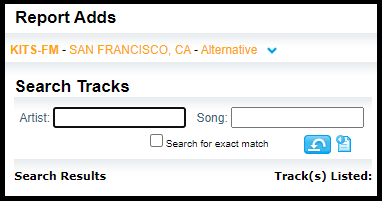 Related Articles

Why is this title highlighted in red in my Add report or station playlist?

The artist/title requested is not registered to the BDS database (mp3 file or any audio file) or the artist/title is being spelled incorrectly. Any songs that are manually entered and highlighted as exceptions will be reconciled by our Media Services ...

What does Going For Adds mean?

When a radio station reports a song as an "Add" that means they have made a commitment to give that song airplay. BDS clients that are promoting songs to radio can list their songs as "Going For Adds". Radio stations then receive a weekly email ...

Why are some Adds automatically calculated in Music Tracking?

An "Add" represents a commitment by a radio station to put a particular song into rotation. Stations that report to the Billboard airplay charts login to www.bdsadds.com/bdsreports and report their new Adds each week. Monitored radio stations that ...

I can't find a song I'm looking for in BDSradio.

To find a song in BDSradio go to Songs / Song View and use the "Find Artist Or Song" search box. Enter the artist name and/or the song title. You can enter partial artist names and song titles if you're not sure about spelling ...

I want to be notified when a station reports my song as an Add.

To set up Add notifications, in Music Tracking go to Tools / Add Tracker Buddy. You can also go to Tools / Manage Custom Tracks to add the songs you're working into a Custom Tracks layout that you can then select from the Add Tracker Buddy to receive ...