How do I activate my account?
To access Music Connect, you must have an active Luminate Data account.

Once your account has been set up, you should receive an email titled:


Make sure to check your Spam folder in case the email was marked as Spam!

If it's found in your Spam folder, move it to your inbox and add "noreply@LuminateData.com" to your safe senders and/or contact list.

If you still can't locate the email, please contact our Client Support Team and we will resend the email.

Please click the "Activate Account" button and follow the prompts as illustrated below.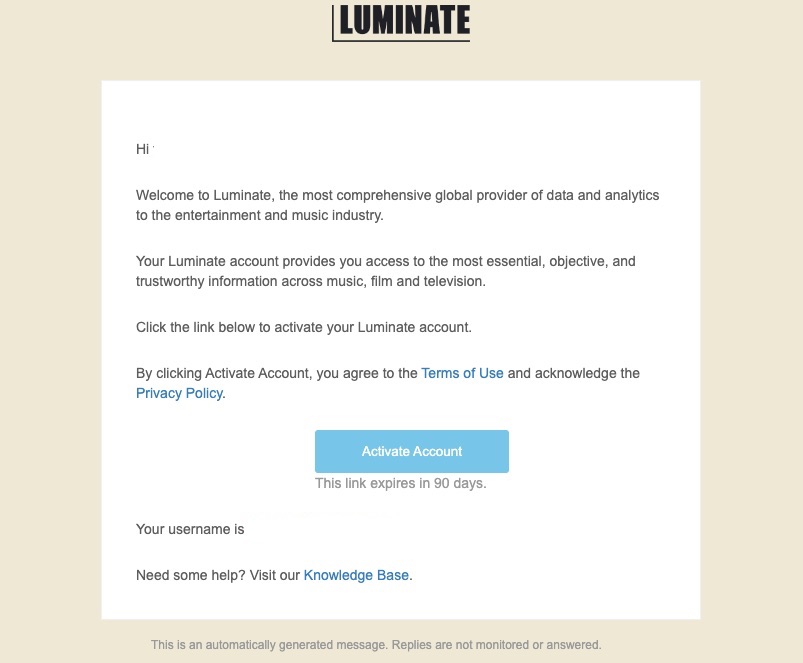 Feel free to sign up for one of our Music Connect Office Hours
here
.
Office Hours are Thursdays at 3pm US Eastern Standard Time.
Related Articles

How do I request a new password?

If you do not remember your password, please follow the following steps: Click on the "Need help signing in?" link at the bottom of the login screen. Click on the "Forgot password?" link. Enter your email address in the "Reset Password" screen. Click ...

What do I do if I didn't get a welcome email or the link in my welcome email has expired?

Your activation email is valid for 90 days. Please search your inbox for an email titled "Activate Your Music Connect Account Now" (make sure to look in the Spam folder as well). In case the email was marked as Spam, please move it to your inbox. Add ...

How Do I Inquire About Getting a Music Connect Account?

Music Connect is the Industry's Premier Global Music Measurement Platform a providing comprehensive view of streaming, radio airplay and sales data for your artists, albums and songs. Music Connect helps clients dive deep into datasets to uncover ...

What is the process for becoming a New Luminate Reporter?

Thank you for your interest in becoming a Luminate reporter! On-boarding Process: 1. Complete New Provider Form 2. The Luminate Content Services team will reach out after reviewing your submission for eligibility. 3. If eligible, Luminate Content ...

Why am I getting a Locked Out error message?

To protect the security of your account, we block any login after 10 unsuccessful login attempts. Please visit this page to unlock your account and restore access. If you believe someone else tried accessing your account, we also recommend changing ...